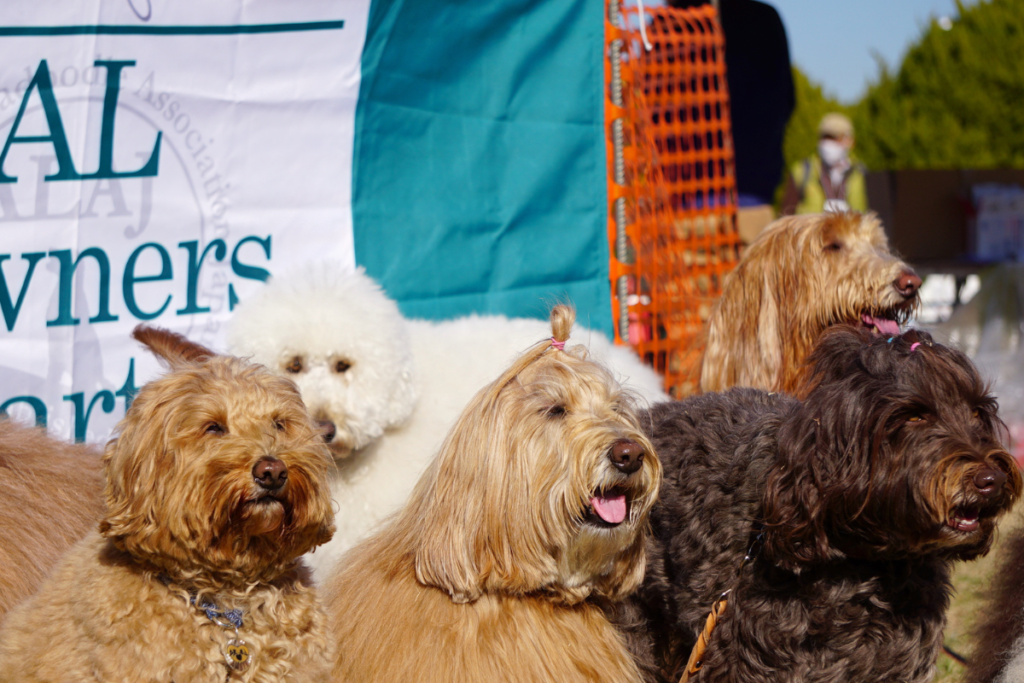 Activities Certificate of Registration and Pedigree Past Activities Some Example of Benefits Member Can Receive
Activities
ALAJ is undertaking business activities below.
Protection and improvement of bloodline of AL
We require that all accredited breeders to register their AL and all necessary test results of AL which are to be domestically bred into ALAJ so as to eradicate genetic defects of AL, and to promote the spread of healthy AL.
Activities to promote recognition of AL as a pure breed
We undertake the efforts to achieve registry of AL as a pure breed to Federation Cynologique Internationale.
Advice and guidance to AL owners and accredited breeders
We provide practical instructions and advice to AL owners and accredited breeders.
Registry and issuance of pedigree, management of registered data of breeding dogs
We maintain dog registration record including bloodline data back to three generations and issue a pedigree and registration certificate.
Promotion of AL by planning, creating, and publishing of the materials specialized in AL
We plan, create and publish magazines which respond to various requests and inquiries from AL owners, accredited breeders and AL enthusiasts, and also create original goods responding the request from ALAJ members.
Activities to promote AL through internet
We make known attractive features of AL with websites and Facebook.
Capacity building and promotion of AL as a companion dog and a therapy dog
We advertise the therapy activities with AL designed for elderly people at various parts of Japan, and its effect, to promote features of AL as a therapy dog.
Various events that provide a close exchange between members
We hold various events and seminars for ALAJ members and others to provide opportunities for exchange of information and ideas.
Certificate of Registration and Pedigree
Certificate of Registration and Pedigree are issued after ALAJ carefully examined and approved the application with registration information submitted by the certified breeder and registered the dog.
Pedigree
Pedigree is issued to manage blood line, and protect the specific breed of a dog. This is the important source of information that provides blood line and breeding method.
Pedigree covers registered name, breed of a dog, sex, date of birth, size, color, grade, microchip number, registration number, breeder, blood line in three generation for both father and mother of a dog.

Past Activities
AL Owner's Party
Every year, we hold a "AL Owner's Party", a big event where AL and its owners get together.
AL Owner's Party 2022 in Yokoyama Symbol Tower, Saturday, January 22, 2022
We had the first AL Owner's Party at Yokohama Symbol Tower, on Saturday, January 22, 2022. With a great weather, 251 owners and 150 AL gathered together.
After the Opening Ceremony, owners and AL enjoyed dog races, and mini games, etc. AL information and advice booth by AL specialists were also provided.

To find out about latest activities, click Here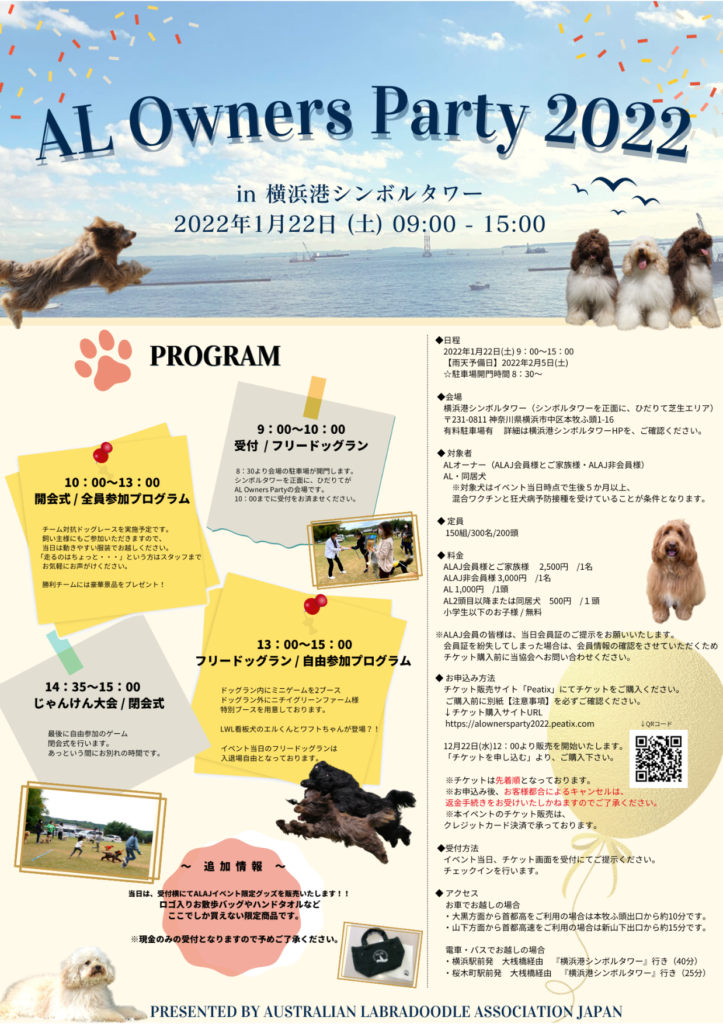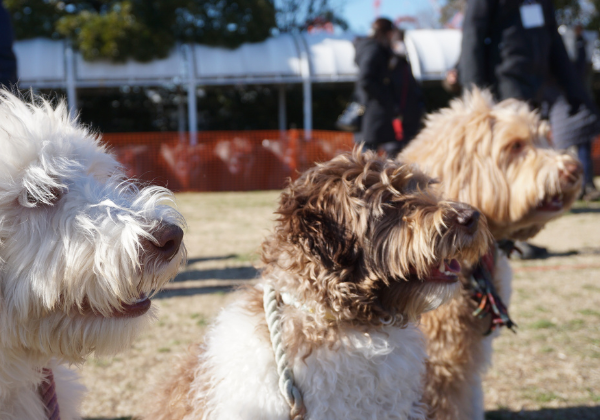 ALAJ Meetup
In addition to annual AL Owner's Party, we also hold the small meetup events at various parts of Japan. Events include useful seminars and courses for life with AL, sports festival, etc.
ALAJ Meetup at Gamou Part, Sendai held on Saturday, March 26, 2021
Despite rainy weather, 20 AL and owners got together, as we were luckily holding this event at comfortable indoor facility. In this event, owners learned how to care for their AL such as lymphatic massage, and also aromatherapy effective both for dogs and people, etc.
Receiving nice massages, AL looked so comfortable with melty eyes.
After the seminar, while AL were enjoying the desert served to them, owners received a little tips on how to care for their AL from an instructor/trimmer.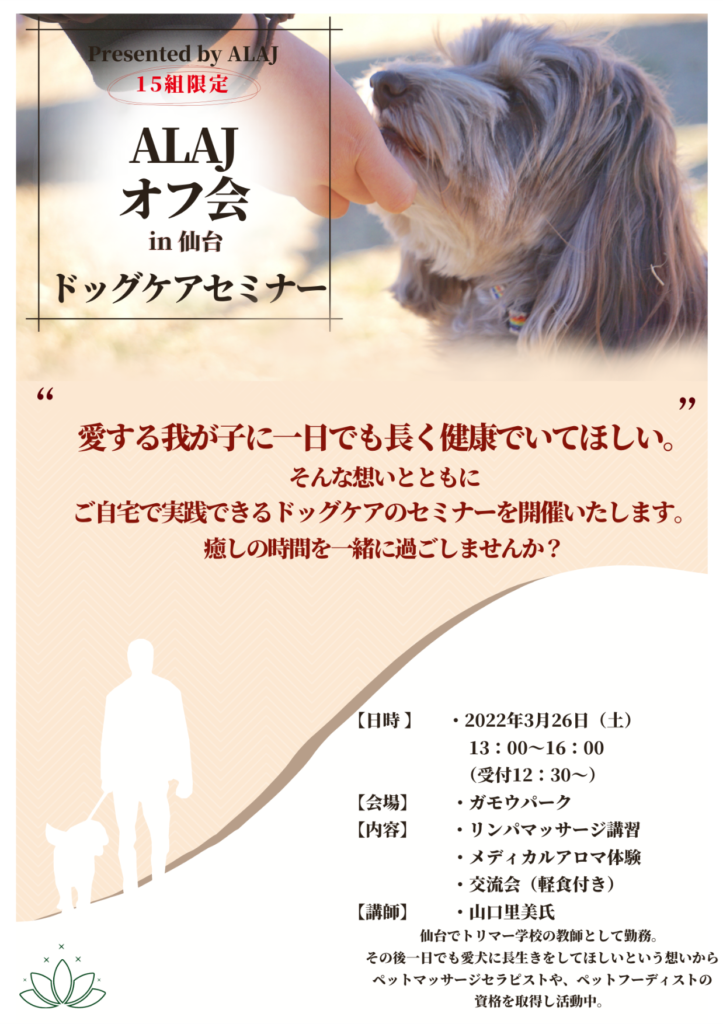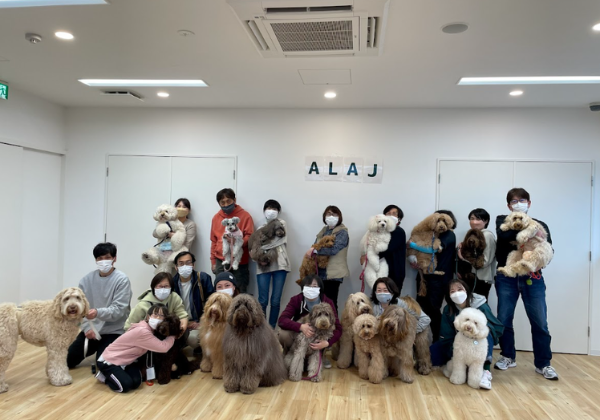 To find out about latest activities, click Here
Some Example of Benefits Member Can Receive
ALAJ Original Goods
ALAJ original goods such as towel and small bag for a walk, are on sale at AL Owner's Party or local meetup events.
Original goods are available for sale only at the evet venue. Members can purchase them at discount.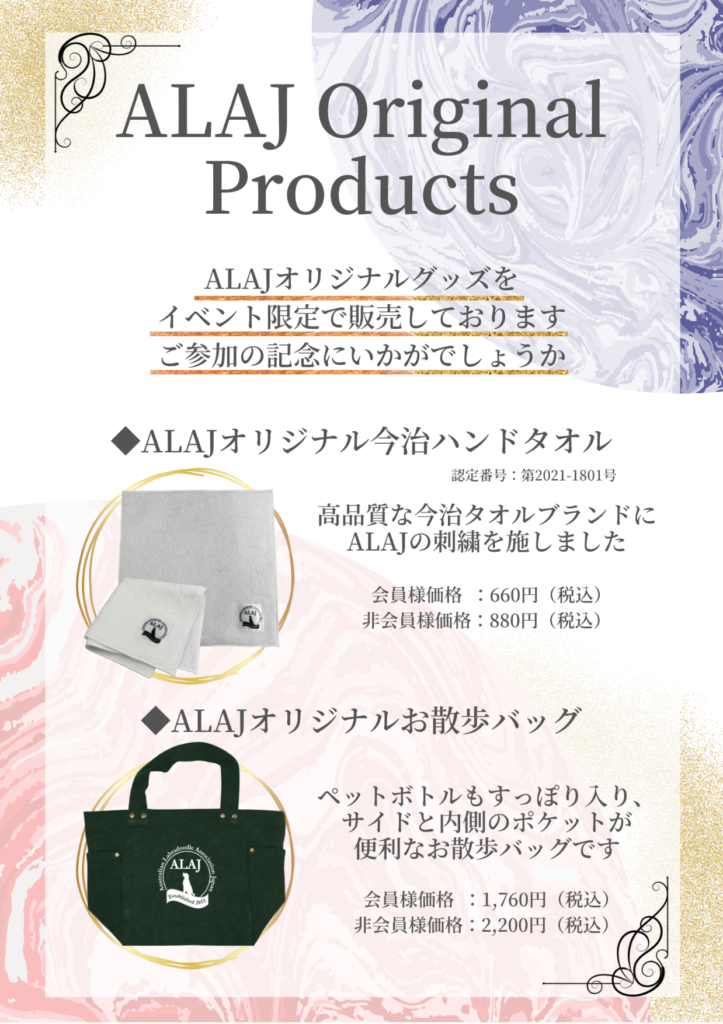 Member Magazine
ALAJ publish member magazine "AL (formerly titled as "ALove!") quarterly (issued in March, June, September, December). We are sorry but the magazine is only in Japanese.
Member magazine specialized for AL first published in December 2012, and marked 10th anniversary last year. Back issues are also available for sales exclusively for the members.
How to Order Back Issues
・Price:880 Yen (tax inclusive)
・How to Order
 Please visit Japanese page.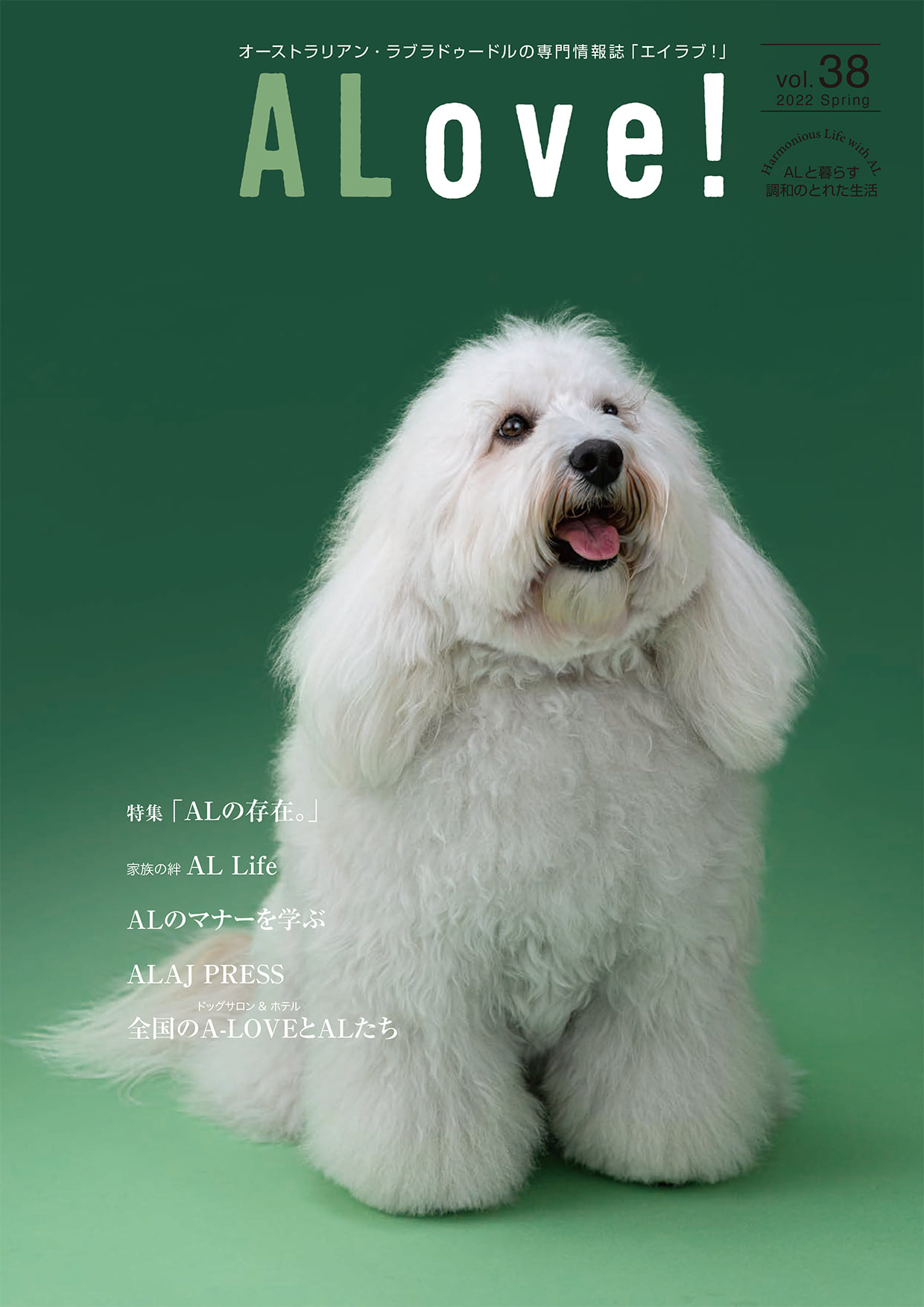 Essay and cover model for member magazine are wanted
We occasionally invite essays on the life with AL and cover model used for our member magazine.
Information for invitation is publicized on this website or on our Facebook page.
【Example】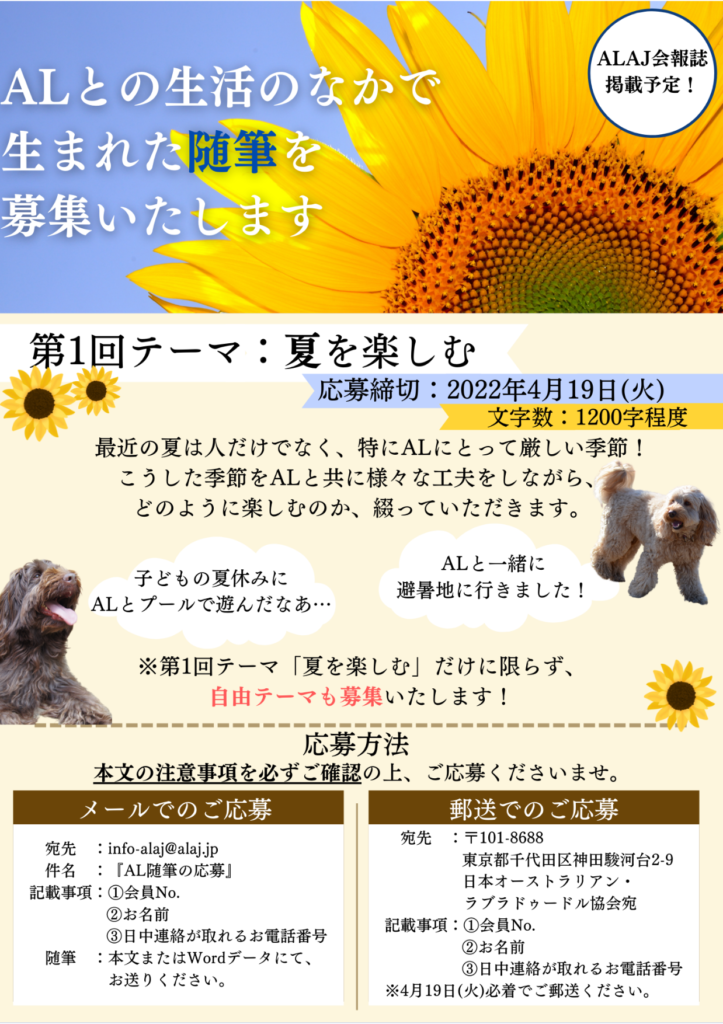 Free Gift
Every year, we send the free gifts such as stickers, charms, etc., to our members, together with September issue of our member magazine.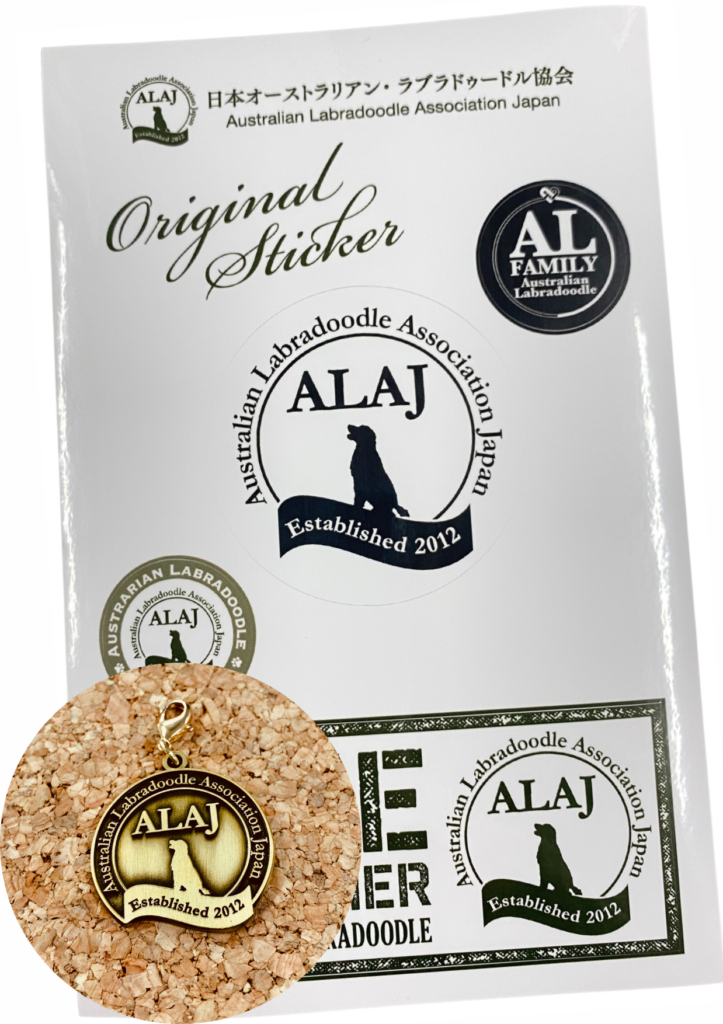 AL Calendar Model
We invite photos or AL who can be a model for photo shooting for each month of AL calendar printed for sale every year.

We present the calendar as a fee gift to those AL who are selected as a model.